LG
LG is one of the world's largest manufacturers of mobile phones, flat screen TVs, air conditioners, washing machines and refrigerators. As a future-oriented company, LG relies on the technology of renewable energies and is expanding it. The range of products comprises high quality solar cells, solar modules and solar solutions which are being manufactured in LG's leading production site Korea. Mono X™ Monocrystalline solar modules offer very high power with four models ranging from 245W to 260W.

LG solar modules meet the requested specifications for solar modules. The test laboratory is certified by TÜV Rheinland and Underwriters Laboratories.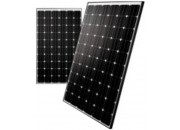 LG Mono X
With many years of devoted and thorough research and development LG has successfully developed a solar cell that is cutting edge and reliable.
LG delivers solar modules with a rigorous quality assurance and a positive nominal power tolerance starting at 0 %.
LG solar modules withstand a maximum load of 5400 Pa, are light in weight and built with glass that is slim and durable.
LG solar modules are specially designed and drain water in all slopes and angles.
LG offers a product warranty of 10 years that comprises of a power warranty of 90 % up to 12 years and 80 % up to 25 years.


Download LG Mono X PDF
(1.1MB)