Inverters
The Inverter is the heart of the solar PV system, converting direct current electricity into consumable alternating current. It is important to select the ideal Inverter as under- or over-specifying can result in the unit's premature demise.
Salop Energy Commercial works with two major brands: SMA and Fronius.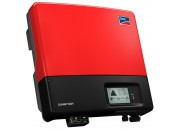 SMA Inverters
SMA is the world's leading manufacturer of Solar PV Inverters. Renowned for their reliability and typical German build quality, SMA is without question always our number one choice.


See more ▶